Official announcement of CFVG MBA's 4th EPAS Accreditation
15/06/2017
CFVG proudly announces that the MBA programme has been granted EPAS accreditation by EFMD for the 4th consecutive time.
After the 4th peer review in March 2017, today CFVG declares the 4th consecutive EPAS accreditation for its MBA programme. The honorable achievement is even more special when it falls in CFVG 25th year anniversary.
More than 18 standards, each of which contains many requirements about programme design, assessment, delivery, application, recruitment etc. have been fully met by CFVG MBA. After careful observation and review, the EFMD decided to continue maintaining the programme status as EPAS accredited from 2017 to 2020. The accreditation opens a wide range of opportunities for CFVG to strengthen its partnership with top universities and business schools in the world. Currently CFVG MBA is still the first and only EPAS accredited international master in Vietnam.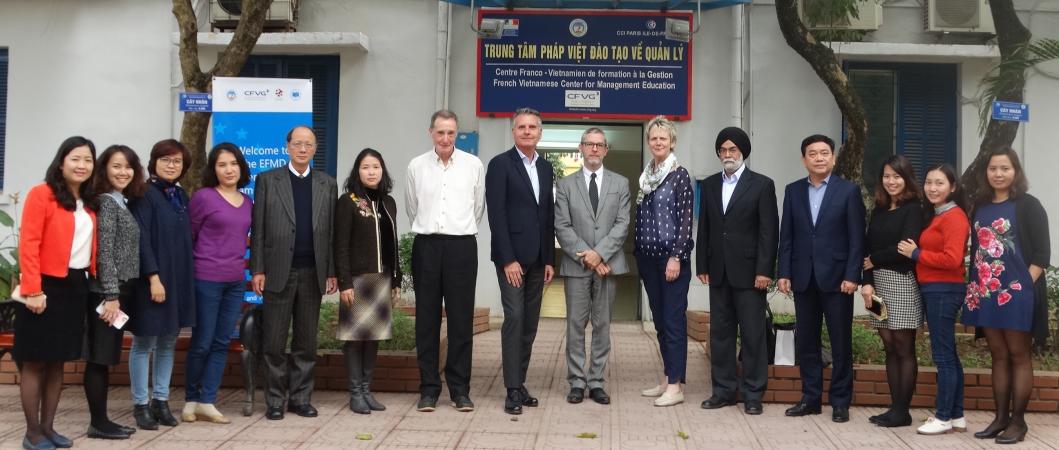 EFMD Peer Review Team at CFVG Hanoi Campus in March 2017
EPAS is an international programme accreditation system operated by EFMD. It aims to evaluate the quality of business and/or management degree programmes that have an international perspective and, where of an appropriately high quality, to accredit them. The process involves a review in depth of individual programmes through international comparison and benchmarking.
Accreditation from EFMD is one of the best and most complete ways to certify the quality of a Business School as accreditation involves an extensive self-assessment by the School, a visit of an international review team who spend several days interviewing many different people in the School, and finally a very experienced jury evaluating the assessment and findings of the review team to determine whether the Programme(s) should be granted accreditation. There are currently no substitutes for such an in-depth assessment of quality.
EPAS was launched in 2005 and in over 10 years has had a considerable impact on the quality of business school programmes all over the world. As of 6 June 2017, 105 Programmes from 77 Institutions across 36 countries have been awarded EPAS accreditation.