CFVG officially acquires AACSB International Membership
17/12/2015
The French-Vietnamese Center for Management Education (CFVG) has become an official member of The Association to Advance Collegiate Schools of Business (AACSB International).
The French-Vietnamese Center for Management Education (CFVG) has become an official member of The Association to Advance Collegiate Schools of Business (AACSB International).
Founded in 1916, AACSB International is the longest serving global accrediting body for business schools that offer undergraduate, master's, and doctoral degrees in business and accounting. AACSB International's mission is to advance quality management education worldwide through accreditation, thought leadership, and value-added services. As the premier accreditation body for institutions offering undergraduate, master's, and doctorate degrees in business, the association also conducts a wide array of conferences and seminar programs at locations throughout the world.AACSB International Members include institutions and collegiate schools of business, as well as corporate, nonprofit, and public sector organizations that wish to work or connect with the management education industry.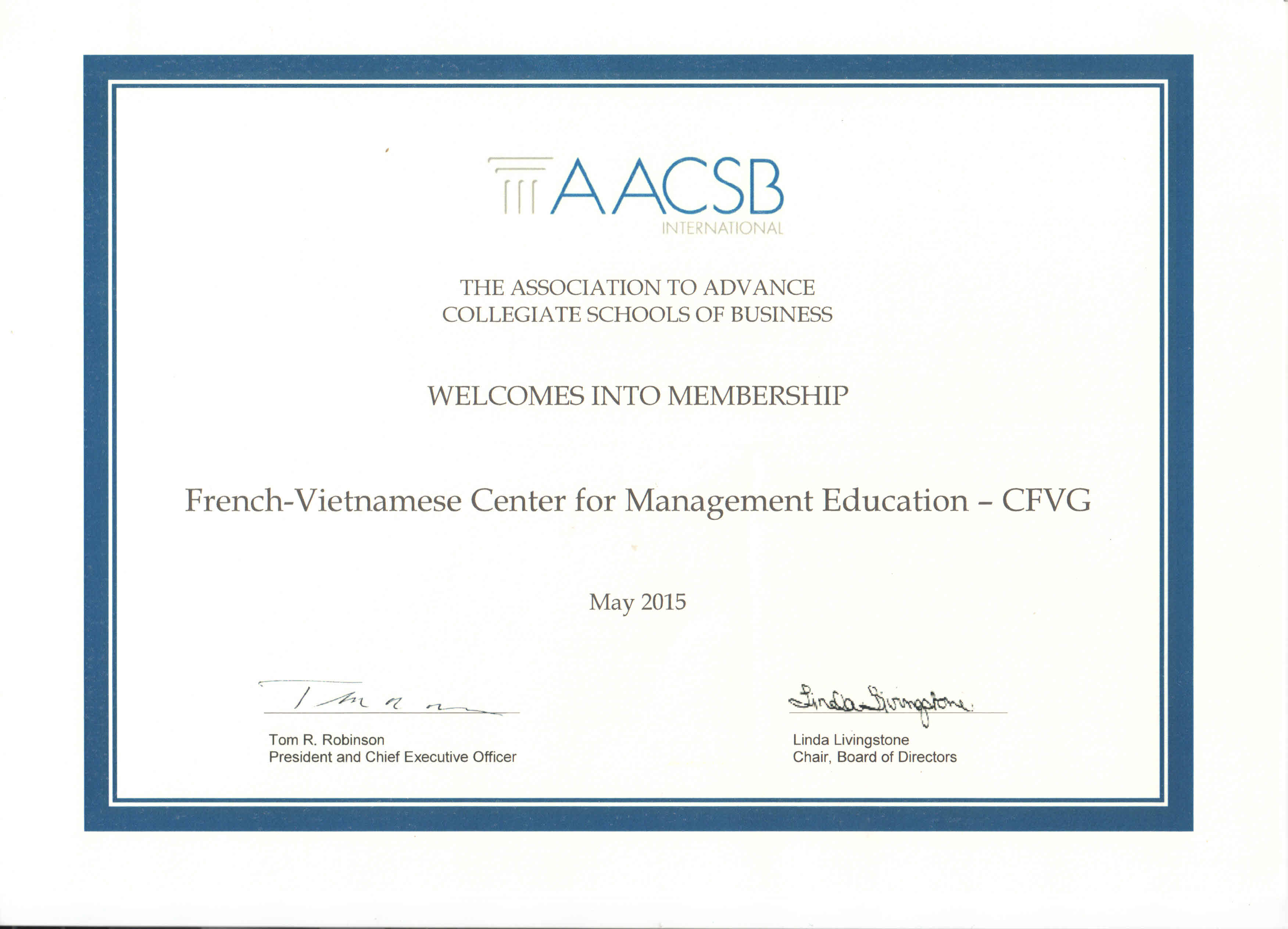 As an educational member of AACSB, CFVG is now recognized as a part of the world's largest network of business schools, all of which are focused on advancing business education. As CFVG is seeking to extend collaborative relationships around the world and planning to pursue more international accreditation, AACSB membership is an essential component. CFVG is currently directly connecting with top business educators from nearly 90 countries with access to a wealth of educational and benchmarking resources specifically designed for business programs and faculty. AACSB membership also connect CFVG with the information, people, and trends that are shaping the future of management education.
"We are proud to be accepted as a member of AACSB International. Now that we're accepted, we will investigate the requirements of accreditation. It takes a great deal of commitment and determination to earn and maintain AACSB Accreditation, business schools must not only meet specific standards of excellence, but their deans, faculty, and professional staff must make a commitment to ongoing continuous improvement to ensure that the institution will continue to deliver the highest quality of education to students. Our talented faculty always sharesa vision in creating an international Business School with internally accredited programs for Vietnam, as well as other Asian countries...Our students and alumni continue to achieve and have proven themselves competitive in their professional careers"

said Dr. Jean Louis Pare, Director of CFVG
 AACSB requires two years of membership prior to seeking accreditation. AACSB provides internationally recognized, specialized accreditation for business and accounting programs at the bachelor's, master's, and doctoral level. The AACSB Accreditation Standards challenge post-secondary educators to pursue excellence and continuous improvement throughout their business programs. AACSB Accreditation is known, worldwide, as the longest standing, most recognized form of specialized/professional accreditation an institution and its business programs can earn.
AACSB Accreditation is the hallmark of excellence in business education, and has been earned by 687 colleges and universities in the United States and more than 40 foreign countries. Fewer than five percent of the Schools of Business worldwide have been accredited through AACSB.