A GREAT START FOR MSCM's NEW SCHOOL YEAR
05/03/2018
In 2017, CFVG  officially launched a brand new degree program – the Master in Supply Chain Management (MSCM). The program is operated in Vietnam under a strong partnership between CFVG and Paris 1 Pantheon Sorbonne University, a  prestigious well-known university in France.. Upon completion, graduates would receive the Master in Supply Chain Management degree awarded by Paris 1 Pantheon Sorbonne University (an M2 degree  in French Education System).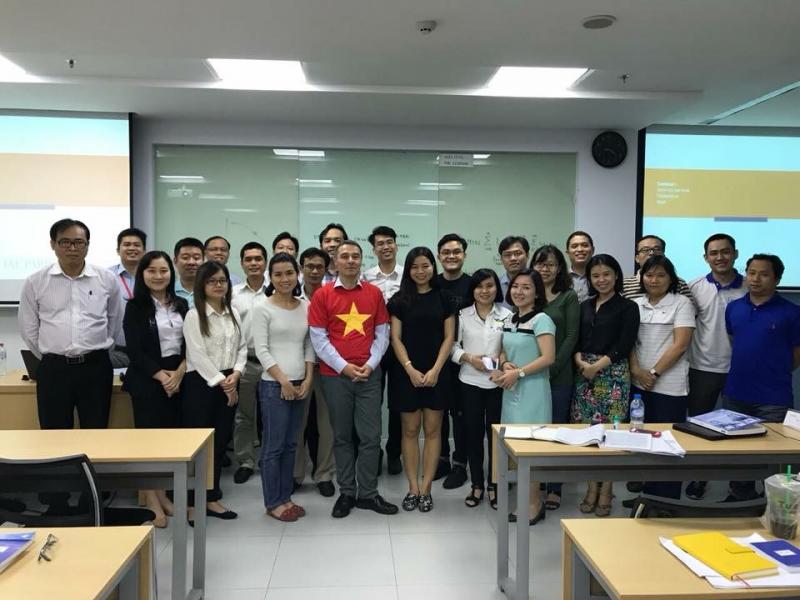 CFVG MSMC 1st Intake with Professor. Gautier (MSCM - Scientific Director) on date of the 2018 AFC U-23 Championship final
The MSCM's first intake has been started in CFVG - HCMC Campus since Jan 19th, 2018. The inaugural class  welcomed new 29 students, who  obtained roughly 10 years  on average of professional experience and  came from a variety of industries and backgrounds such as: Vinamilk, BP Castrol, Johnson & Johnson, CMA-CGM Vietnam etc.
A high standard curriculum  was the student's most  favorite about CFVG MSCM. Classes were held in the evening on weekdays and one whole day on weekend  allowing students to  maintain their job while learning valuable skills to advance their careers. Moreover, the program's interactive format  enables students to engage with industry leaders and apply in-class theoretical concepts to the real-world supply chain challenges through case studies and speaker series.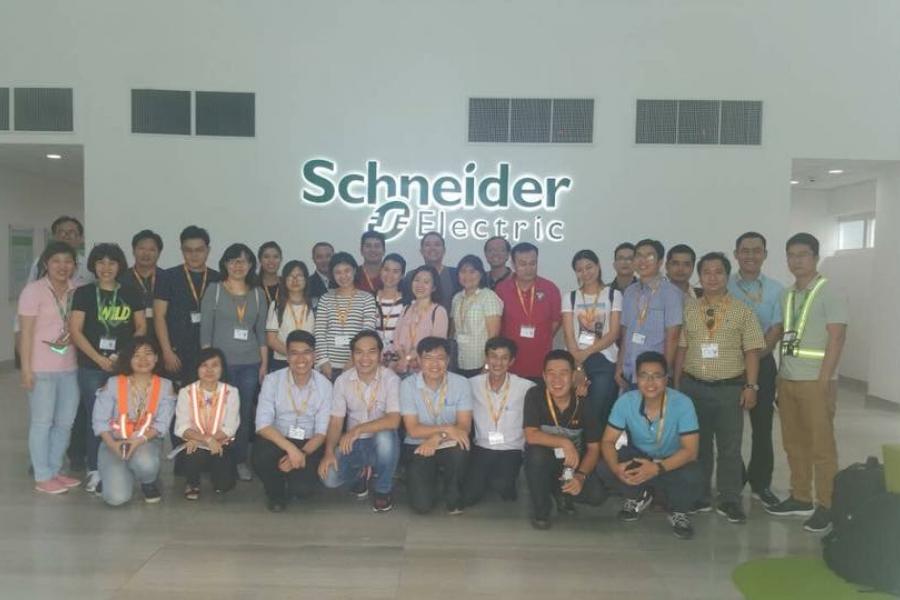 CFVG MSCM students on their company field trip
Beside spending hours in the class, the students  had opportunities to update the industry knowledge and  broaden their perspectives. After the first 2 modules, MSCM students were invited to join a conference with Mr. Douglas KUO, CEO of Abbott Laboratories, in which they enjoyed a deeper  topic about some of the most  updated/emerging contexts of Vietnam supply chain industry. Then the students visited Schneider Electric brand-new factory participating in the presentation by Ms. Dinh Thi Hong Ninh, Production Manager Manufacturing Global Supply Chain at Schneider Electric,  on "How to organize the supply chain at Schneider Electric Vietnam and what are the big challenges and impacts in terms of strategy".
2 months after the opening, CFVG MSCM has been receiving many positive feedback. Read how the students feel about our program as below:

Mr. Huynh Phu Than
CFVG MSCM Intake 1
Associate Planning Manager - Johnson & Johnson
A: Initially, I thought the professor is merely academic-oriented but I was later amazed by his up-to-date knowledge on trends and issues of the industry. Knowing my classmate are coming from different business sectors, the professor also inspired us not only to interact with him but also to share knowledge and experience with each other. This surely help create a better learning environment as it is today.

Mr. Nguyen Thanh Van
CFVG MSCM Intake 1
Strategic Sale Manager - Indo Trans Logistics Corporation
A: I had joined many company trips to client's factories or offices before. However, the trip to Schneider Electric was different. We had that trip after studied Module 1, therefore I was able to understand and combine the theory and its practice in the real world. I have learnt a lot from that trip.