CFVG, Solvay Vietnam and HPC signed the MoU on EMU's support for the training and development of human resources
18/06/2018
The MoU proposed that CFVG and Solvay Vietnam would offer Hanoi People Committee (HPC) more than 300 scholarships for HPC with the value up to 22.5 billion VND in the perspective of creating the new European Management University (EMU).
In 25 June 2017, the MoU between CFVG, Solvay and HPC to establish the EMU was signed to mark impact 25-year history of CFVG and Solvay Vietnam. The project witnessed a significant progress as on June 17th 2018 at Hanoi 2018 - Investment and Development Co-operation, CFVG, Solvay and HPC signed the MoU on EMU future support for training and development of HPC's human resources. The MoU proposed that CFVG would offer HPC more than 300 scholarships in the next 10 years. The total value of CFVG's sponsorship was up to 22.5 billion VND. This scholarship program will contribute to develop the talented management and leadership knowledge and skills of several officers, managers and leaders from HPC, its departments and from ministries, provinces, cities in the area. Furthermore, HPC agreed to support in the implementation of planning, land and related procedures for the establishment of EMU in Hanoi.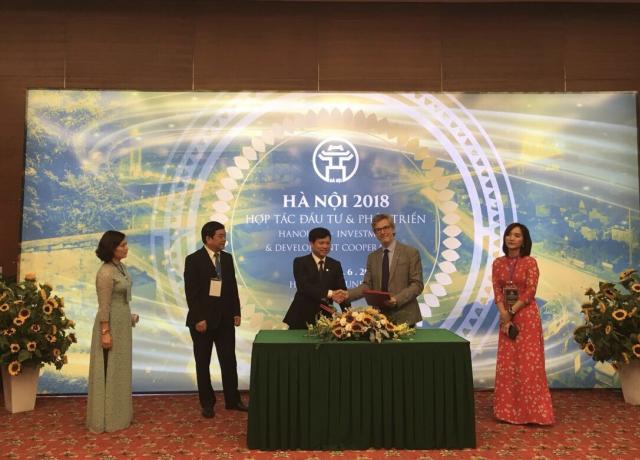 Hanoi 2018 - Investment and Development Co-operation, take place on June 17th at the National Conference Center in Hanoi has attracted around 1,500 representatives, including leaders of the government, ministries, agencies, cities and provinces, international organisations and hundreds of investors and businesses.
Beside EMU, at the event about 160 other projects including smart city, education development, hi-tech agriculture, healthcare, environment, and tourism was introduced. Twenty MoU and investment certificates were expected to be signed or granted with the total value of $12 million.