CFVG MEBF PROGRAM MANAGER BE APPOINTED AS ASSOCIATE EDITOR FOR A-LIST FINANCIAL JOURNAL
19/05/2017
Congratulation to Associate Professor Doctor Vo Xuan Vinh, CFVG MEBF Program Manager, on his achievement to be an associate editor for the International Review of Financial Analysis (IRFA). This Journal is ranked A-list by ABDC (Australia Business Dean Council). IRFA a non-affiliated refereed journal whose primary goal is to provide an outlet for high quality Financial Research. The journal is open to a diversity of Financial Research topics and will be unbiased in the selection process. The intent of the editors is to have IRFA provide a vehicle for the dissemination of international Finance Research ideas and results.
Moreover, Assoc. Prof. Dr. Vo Xuan Vinh also a member of Scientific Committee in Economics of NAFOSTED. Its operates for non-profit purposes, functions as a financing and lending capital medium for scientific and technological projects proposed by organizations or individuals.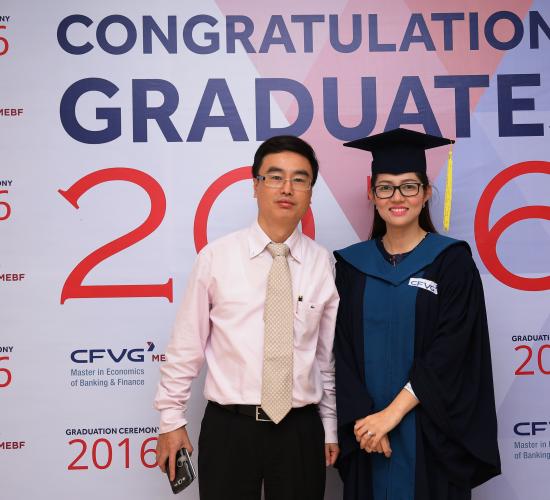 Association Prof. Dr. Vo Xuan Vinh at CFVG MEBF Graduation Ceremony 
Associate Professor Doctor Vo Xuan Vinh is currently the program manager of the Master in Banking and Finance at CFVG Ho Chi Minh City. He is also a lecturer at the School of Banking, University of Economics Ho Chi Minh City (UEH). He used to be a teaching staff at University of Western Sydney and University of New South Wales, Australia.
He also has strong industry experience. He used to hold different senior management positions including Director of R&D at VNPT Group, Director of Asset Management Company, board member, and vice-president of blue-chip corporations in Vietnam. 
Dr. Vo Xuan Vinh has published his research in many international journals including Research in International Business and Finance, Applied Economics, Applied Financial Economics, Emerging Markets Finance and Trade, Global Finance Journal, and International Review of Financial Analysis.