Champagne Harvesting – a Once-in-a-lifetime Experience in France
28/09/2018
I believe that life is a journey which will be enriched by small adventures exploring the world full of color and diversity. This series of my blog posts are observation, stories and learning that I have encountered through each adventure, with the desire for recording impressions, experiences and memories. This time, it's about my 5-day trip of champagne harvesting in Champagne – Ardenne region in France.
My second time in Champagne-Ardenne region is not for touring the beautiful city of Reims or joining champagne tasting tour anymore, but to hands-on one stage of the wine making process which is champagne harvesting on the vineyard. Champagne-Ardenne is one of the regions in France where grapes are still hand-harvested. It gave me such a once-in-a-lifetime experience of being a farmer in few days! This 5-day hard-core trip truly taxed my body, yet gave me a chance to try something new and to challenge myself.
Our team this year had 40 members most of whom are Vietnamese students in Master or PhD living in different cities of France. And almost all of us stayed together in the common house of the organizer. Every day started from 5am: we woke up , got prepared and had breakfast quickly before leaving home at nearly 6am. It took us around 1 hour to drive to the vineyards, which gave us another hour to sleep in the car. The big group was divided into 2 teams, one of which was the 'warrior team' harvesting more productively and difficultly with just 9 members. And by some reasons (which I cannot figure out until now), I was selected to that team, making this trip like a 5-episode reality show with increasing level of challenge every single day:
Episode 1: Warm up – get acquaintance with cutting grapes
in different positions throughout 10-11 working hours. So, champagne harvesting is cutting the correct ripe grapes by hunting them from the thick clusters of vine leaves. The tip to harvest grapes quickly is to know exactly where to clip so that the whole bunch falls freely into the bucket. And it's better to work in pair: each person in charge of one side of the vine-row. The vine is quite short (just 1 meter high) and grapes are mostly to its middle and lower part, requiring me to stay low to work all the time. I, therefore, changed positions frequently to feel a bit more comfortable: from squatting, kneeling, stooping, even sitting on the soil and bending my body into contortions. Working in those positions, even changing often, taxed my body a lot and led to terrible backaches, especially lower back and leg pain, especially knees and feet. For those having problems with lower back, I highly recommend not to take this challenge, or just take it for 2 days maximum to avoid too much painful influence to your weak back.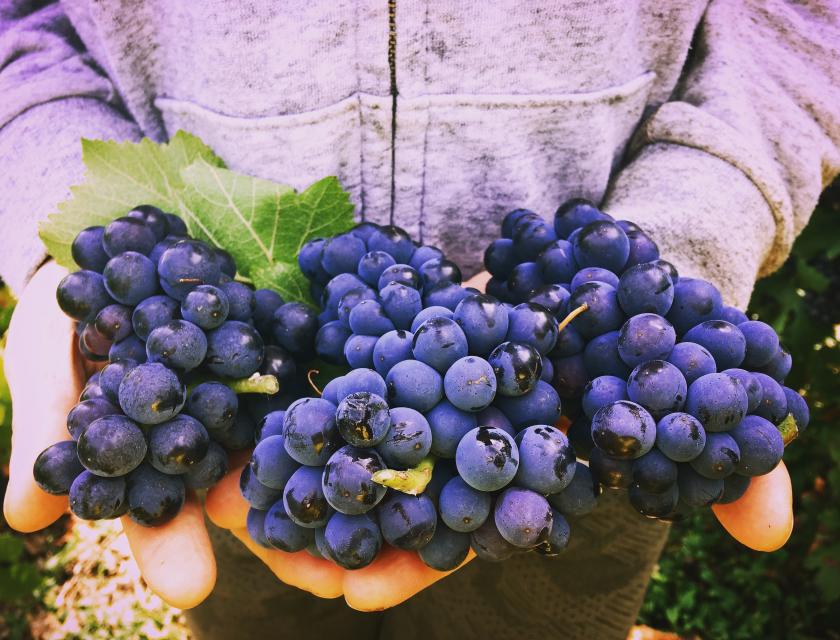 Ripe black grapes for making Champagne Rosé
Episode 2: Descendant of the Sun
One of the challenge when working on vine-field is dealing with the sun heat for such a long period of time: 8-9 hours. This year, the harvesting season started quite early – in the last week of August. Thus, the weather was not much cool down. And my second day challenge was working under the heat of the sun, which made me and all members exhausted rapidly. However, with highly set quota, we had no choice but finish them all. Mineral water is extremely important to get over this awful weather. Sometimes, we had to eat the grapes to get some sugar to continue as well.
Episode 3: Harvest under various weather conditions
Totally opposite to the 2nd day, the 3rd day challenged me with rapidly changed weather conditions. It rained throughout the morning, making the temperature so low. And then sun shined strongly before lunch time, and back to rain, windy several times until late afternoon. Extreme weather made us get wet and cold and hot and cold. Our clothes and hands were totally wet and dirty all the time even with rain coats and rubber gloves. That resulted in the flu and cold among some team members at the end of the day. So, don't forget to get prepared and bring some medicines along.
Episode 4: Foster productivity
As said, my team is 'warrior team' and we were required to cut as quickly as possible to reach high target. The 4th day challenge was the surprise increase in quota both in number of vine-rows and their length which stretched further than I could see lushly verdant and laden with grapes. The feeling of never getting to the end of the vine-row was so demotivated and frustrated. Fortunately, my team was so good and supportive. We encouraged each other, sometimes sang along to motivate the whole team and helped the others when finishing our own line. The strength of team work and the motivation of getting back to the common house to have more time to relax helped us finish that high target on time.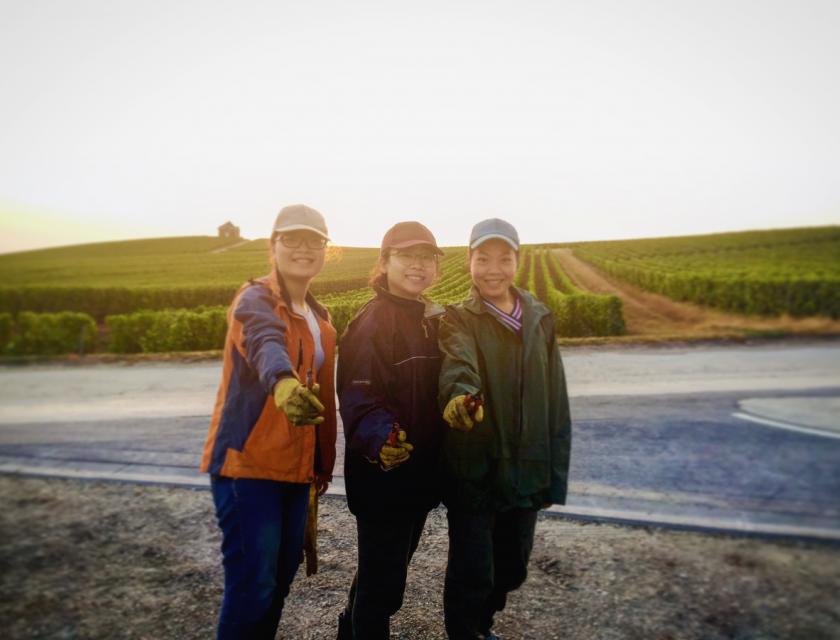 Me & two other members
Episode 5: Pick grapes while climbing up vineyard hills
The last day was the hardest one when we had to harvest up hill. Walking up hill is indeed harder than on flat land. And stooping to cut grapes while moving up hill is so exhausted. Again the vine-row was so so long, up and down. Even local winemakers working with us and familiar with the job and weather here were so exhausted that day. Most of us had to sit down on the soil and move by ass to avoid too much pain for lower back and legs. Luckily, it did not rain so that we can apply that way. Finally, each pair of my team finished 13 rows at the end of the day. Be careful of various insects and grass weed which might cause skin irritation and allergies from which most of us severely suffered for one week upon finishing that day.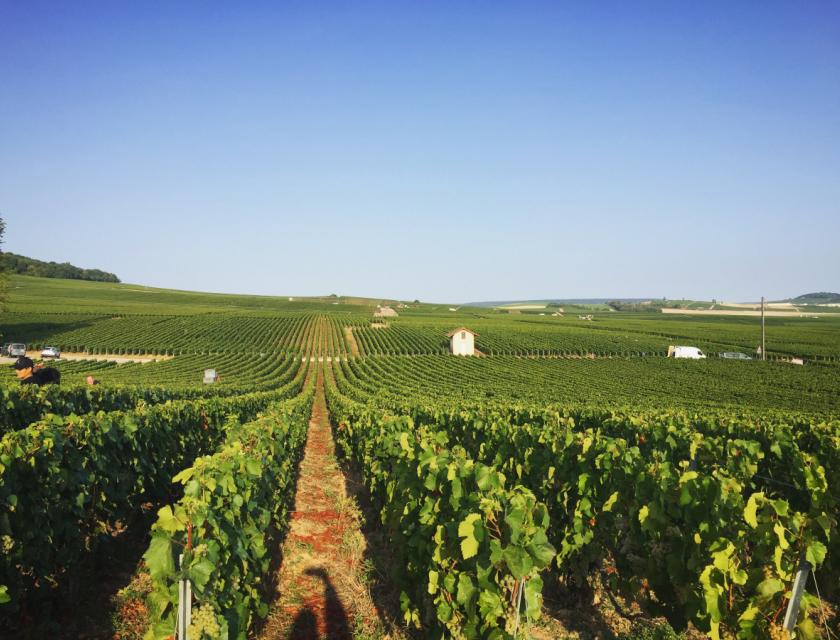 Hill of vine-yards
This trip is truly exhausted and challenging, but to the bright side, is really interesting to do something different, to earn a new experience, to enjoy breathtaking vineyard views at various periods of time in a day (from dawn to dusk) and especially to make new friends studying in different cities of France with different stories and situation. More interestingly, the 5 days of working so hard helped free my mind from thinking so much and focus on harvesting and enjoying basic daily life activities to the fullest like taking a shower, practicing yoga, etc. without any rush or thinking of what to do next. Plus, staying together with many other new friends in the common house gave us unforgettable memories: sharing limited hot water for showering, boiling water and helping the other to wash hair like the old days in Vietnam, taking massage & yoga sessions to stretch out the back and legs after each super hard-working day, or stress-released talks full of laugh before going to bed, and some other sensitive 'first-time experiences' on the vine-field.
To me, this is a nice-to-have adventure in France, but recommended for 2-3 days only to enjoy & avoid too much painful suffering.
(Duc Hanh Nguyen, CFVG MBA25 at IESEG)